Welcome to this week's Weekly Wrap Up. Here is a small selection of what we've been up to.
BMW Z4 Colour Change

If your new car was not available in the colour you wanted, or perhaps you've simply grown tired of the colour of your old car and want something new, we can help. This client wanted just that, he approached us to help him give his Z4 a brand new look. Our 3M Authorised Vehicle Wrappers used a gorgeous satin vinyl, 3M 1080-SP276 Satin Flip Caribbean Shimmer, to wrap the whole car. This colour change looks amazing and will certainly stand out when cruising about.
Glasswells
Glasswells approached us to supply and fit some Christmas graphics to the windows in their Ipswich and Bury St Edmunds stores. We used white cut vinyl and fitted them to the inside of the windows. This design is simple yet effective and the white really stands out. If you need some Christmas graphics created please contact our design team on studio@coastlinegraphics.co.uk as it's not too late to get your window displays created and fitted in time for Christmas.
Thurlow Champness & Sons
This local high end jewellers, Thurlow Champness & Sons, approached us to design, produce and fit some Christmas window graphics to their Bury St Edmund shop. We printed the night sky onto vinyl using our Epson 10-colour printer in this arch shape to frame the top of the windows. We then used a red and gold chrome cut vinyl for the silhouettes of Santa's sleigh and reindeer. The gold chrome detail on the overlay and the stars have really added some interest to the windows.
David Carson LIVE!
On Tuesday 5th November we were part of an exclusive event at The Apex in Bury St Edmunds, where we welcomed world-renowned graphic designer David Carson. He presented an inspirational lecture to students of the University of Suffolk, West Suffolk College and members of the public, after an opportunity to get his new book signed David Carson then co-hosted collage and screen printing workshops.
There will be a full write up of the event coming very soon, so keep your eyes peeled.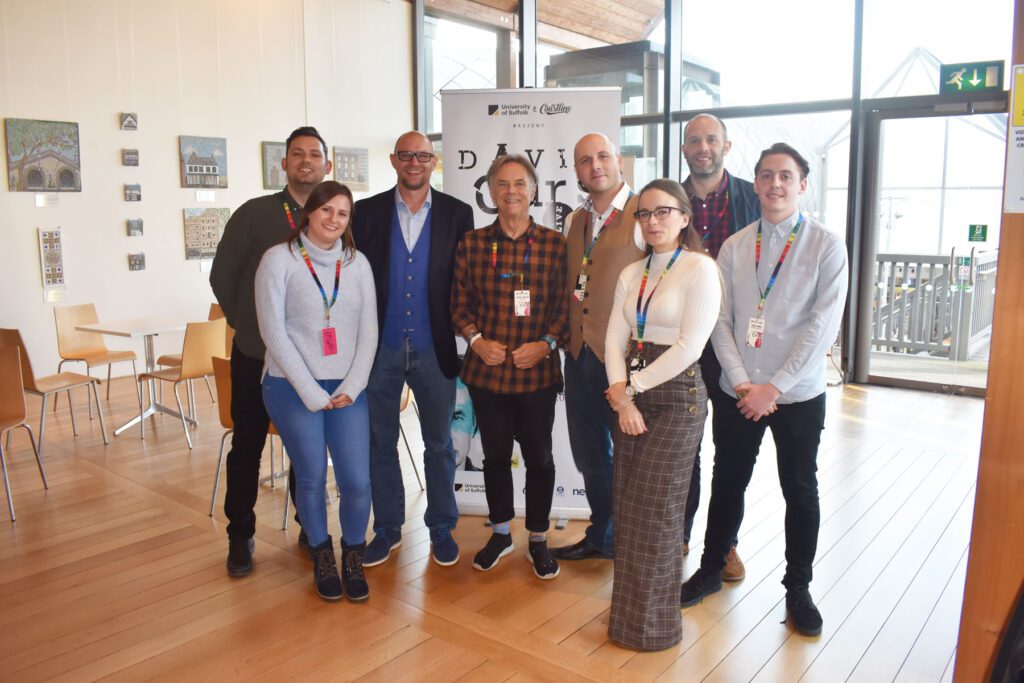 Coastline design team – Left to Right: Vince Canning, Rachel Bell, Scott Braker, David Carson, James Archer, Laura Batten, Andreas Koch and Chris Smith.