Welcome to this week's Weekly Wrap Up. This week is slightly different to normal, as is the world around us. We want to show how our services can help you through this uncertain time.
Printed Floor Graphics
We have a few options for when it comes to floor graphics, all of which have the required anti-slip properties to allow them to be used in public areas. Available at any size, shape and quantity these can be extremely useful at present to encourage social distancing and wayfinding around stores and businesses.
Safety Posters
We can print posters at any size and from 1 or 2 up to large quantities. They can be on various stocks and can be either gloss or matte laminated to add a bit of extra longevity and ease of cleaning.
Posters can contain any information you require and our design team are here to help if required.
PPE Advisory signs
As with the posters, we can offer a full range of signage solutions to get your message across. Whether that is a 'Hand Wash Instructions' or a public information sign, we can make them at any size, quantity and in a material suitable for any environment.
Again our design team are on hand to assist so if you want to keep your staff or the public informed in this ever changing envrironment then why not make them look good and keep your brand consistency – it may seem insignificant but the strength of your brand helps build trust from both your staff and clients.
Along with a full range of visual management signs, we can offer specific signs to ensure your staff are complying with the current guidelines and advice.
These signs can be any size, and can include specific details relating to your work space. Our design team can assist in creating these.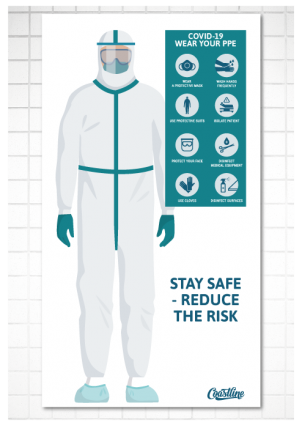 We are always here to help, We have designers working remotely and have people available to answer your calls and emails as usual.
but please remember..
STAY HOME, PROTECT THE NHS, SAVE LIVES!