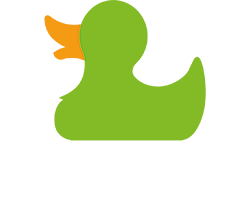 Giving IT some Coastline creative treatment.
Local IT support and training specialists Green Duck contacted Coastline with plans to update their identity. With multiple vehicles and their extensive office building (inside and out) requiring attention, our design team got straight to work. We started by looking at the internal offices and agreed that full colour printed wall wraps would create the biggest impact to the impressive new offices at Green Duck. Hi resolution images of brickwork were used to create authentic looking walls that contrast the hi-tec equipment used in the offices. On one particular wall we designed series of '8-bit' looking superhero characters with brightly coloured backgrounds that comply with Green Duck's brand guidelines. These wall wraps were finished with a high quality matt laminate and look fantastic. To reinforce the new look Green Duck identity we wrapped and applied logo decals to various internal doors.
It wasn't just inside Green Duck to get a makeover.
With the internal graphics looking great it was time to give the outside of the building some attention. With a high profile location with high volumes of passing traffic, it was important to ensure the Green Duck building was noticed. We created and fitted window graphics to multiple windows using icons that represent the company's services and cladded the entire corner of the building adding large Green Duck logos to multiple elevations. The overall effect looks great and you certainly can't miss the Green Duck identity.
Next up were the vehicles.
With a fleet of cars and vans it was decided that the funky little Fiat 500 should be used as the little attention grabber whilst the other vehicles promoted the brand with large logos. The Fiat 500 received the Coastline creative's treatment and a design was finalised that would surely not be missed on the roads! Utilising different 3M wrapping vinyls the entire car was wrapped. The green has a nice satin finish whist the white had a subtle sparkling gold fleck. Take a close look if you see this car out and about!
We followed up the vehicles with some Pop Up Banner graphics and look forward to continuing our work with Green Duck throughout the year.