For when your signs need to be clever! We have a growing range of signage options to help you communicate your message effectively.
Our 'Visual Management' service is aimed at producing signs that go that little bit further and have multiple functions.
We offer a full consultancy and design service to help establish what you need and what will best suit those requirements. The idea is that these signs help your business whilst looking great. We aim to make them simple to use and effective at communicating your objectives and targets.
Especially popular in factory and warehouse environments, these sign systems will not only ensure improved efficiency but will also empower your staff giving them added ownership of their working processes.
For more information on our Visual Management solutions contact the design team on 01284 717760 or studio@coastlinegraphics.co.uk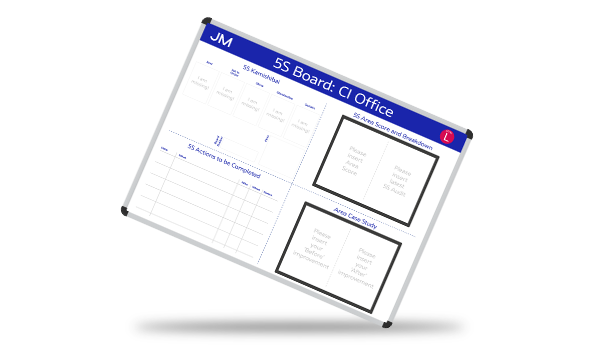 Dry-wipe Boards: We can design and produce dry-wipe board at custom or standard sizes, to suit your requirements. Magnetic dry-wipe boards are also an option and we can also produce bespoke magnetics to accompany your board.
Shadow Boards: These boards are perfect where tools and equipment are used by multiple personnel and need to be kept organised for H&S purposes. We design and produce these bespokely to your requirements by taking templates of the tools/equipment being displayed on the boards.
Accessories: When designing your Visual Management signage we take into consideration the practical uses and we can include accessories such as ring binders, document holders, magnets, hanging systems and much more. If you require it we will find the perfect solution.
By no means are these the only options we have for you, if you require some signage to help departments run more efficiently or to simply display targets and objectives, give us a call to arrange consultancy and design meeting.
Lean Management Systems
Continuous Improvement
Health & Safety
Warehousing & Distribution
Scheduling & Targetting